Today, Thursday at 9.30 am, the lady owner will be bringing the Miniature Schnauzer with white gums, 2 weeks after treatment. It is 4.36 am now and I am reviewing the case of this dog. A case of the dog with white gums.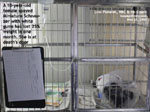 The first report is at:
http://www.kongyuensing.com/folder5/201006220very-low-platelet-count-Schnauzer-10years_anorexic-ToaPayohVets.htm
So far, the lady said that the dog's gums had become pinker. The dog is eating and drinking and passes normal stools and urine. Her only complaint was that the dog had this panting throughout the day during the past 2 weeks. She said: "She may be feeling some pain."
Well, the dog did have a very painful slipped disc when I first checked her. She also had a painful bladder area on palpation.
What is the cause of this panting? Is the old dog with white gums suffering from a form of an autoimmune haemolytic anaemia (AHA)? In AHA, the dog's red blood cells are produced normally but its abnormal antibodies which are needed to destroy bacteria or viruses, start destroying the red blood cells. So, the dog has low red blood cells and suffers from anemia.
In AHA, the dog also has low numbers of platelets and suffers from thrombocytopenia. The platelets in the blood form clots when blood vessels are cut or broken. If the dog has low platelet count, there will be uncontrolled bleeding. AHA in dogs is similar to haemopilia in people.
SYMPTOMS
Anaemia. Pale or white gums, conjunctiva and later yellow instead of normal pink to red colour. So the dog is lethargic as it has low levels of oxygen in the tissues and brain.
Jaundice. The liver removes the damaged red cells. The breakdown products causes a yellow colour of gums, conjunctiva and skin.
Bleeding from the nose or blood in the stools due to low platelet count. Takes a longer time for bleeding to stop.
Heart beats faster to bring oxygen to the tissues and brain.
DIAGNOSIS
1.
COOMBS TEST
is used to check for antiglobulins (autoantibodies). Nearly 98% of human patients with AIHA have a positive direct Coombs test (also known as direct antiglobulin test or DAT). A positive DAT means that the red blood cells are coated with the red blood cell autoantibodies. Patients may only have a positive direct Coombs test during disease flares and not at all times. There is also the Coombs
Negative
AIHA as a result of vaccinations or other medical conditions and the patient is mis-diagnosed as having other types of anemia or non-immune haemolytic anemia.
2.
BONE MARROW BIOPSY
AIHA may be either regenerative or non-regenerative as determined by a lab examination of a blood sample and/or bone marrow biopsy. Regenerative anaemia - increased numbers of large immature red blood cells (reticuloycytes).
Non-regenerative anaemia
- anaemia lasting >5 days with low reticulocytes; the immature red cells are made but are destroyed in the bone marrow by the dog's own immune system.
As Vet 1's blood results did not include platelets (IDDEX machine had printed out an advice to repeat blood test), so there was no earlier blood test history in relation to RBC, HB and platelets.
Dogs with chronic AIHA take many weeks to show clinical signs as in this case.
A bone marrow biopsy is used to distinguished
between non-regenerative AIHA and cancer
or other causes of non-regenerative haemolytic anaemia. But few vets do this bone marrow biopsy and diagnose the dog with chronic non-regenerative AIHA as suffering from blood cancer, according to one dog forum posting (see reference below).
IN THE CASE OF THE DOG WITH WHITE GUMS, it was difficult to collect the urine for analysis of the presence of haemoglobin in the urine. The dog was in great pain and I stopped catherisation of the urethra for urine. She peed the normal yellow urine instead of the dark red urine in AHA.
CAUSES
Genetic or environmental factors. The latter include infections, drugs, poisons, bee stings and vaccines. Various neoplasms, systemic lupus erythematosus and canine hypothyroidism.
The dog had not been vaccinated for the past few years and so vaccination would not be the cause. The dog was recently taken outdoors after living in the apartment for most of her life. Infections could be the cause.
Some indications of infections include ulcers at the back of the tongue on the left side. (I took a picture 24 hours after IV treatment when I examined the tongue and tonsils). At the first consultation, the dog wanted to bite me when I palpated the enlarged left submandibular and popliteal lymph nodes.
Tumours. Since the dog had been losing weight of 25% for the past 4 weeks (from 5kg to 4kg), it could be suffering from internal tumours, e.g. in the spleen, pancreas or liver as "diagnosed by ultrasound" by Vet 1 earlier.
Gender. Females of all breeds, even when spayed, have a higher risk for AHA than males.
Genetic predisposition. Some dogs have changes in their immune system, a deficiency of pyruvate kinaese enzymes or abnormal red blood cell structure.
Breeds at higher risk. American Cocker Spaniels, Beagles, Old English Sheepdog, Westies, Shih Tzus, Alaskan Malamute, Lhasa Apso, Poodles, Basenjis, Daschunds. The case being reviewed is a Miniature Schnauzer, female, spayed.
TWO BLOOD TESTS WITHIN 24 HOURS.
Low red cell counts, low haemoglobin and lower platelet count.
In theory, the haemoglobin should be high if there is AHA. This is because the destroyed red cells will lead to an increase in haemoglobin and not to a decrease.
However total white cells were in the normal range. I noted that the % of neutrophils was over 90% (normal dog is usually around 75%). The dog responded to baytril IV, metronidazole IV, Vit K1 IV and dexamethasone 0.2 ml IV, iron SC and Vit B complex SC on day 1 as the gums became pink 24 hours later.
TREATMENT
1. Most dogs with AHA respond to steroid therapy which may be required for years. Prednisolone suppresses the immune system to prevent red blood cell destruction. Bacterial, viral and fungal infections must be treated if present.
Oral prednisolone in high doses e.g. 2-4mg/kg q 24hr divided into 2X/day, starting at 2 mg and increasing dosage if response is poor. Give for 2- weeks, then gradually taper off dosage. Decrease to mg/kg/24 hours for 2-4 weeks, then 1 mg/kg/48 hours for 2-4 weeks, then taper off.
*If anaemia (one author in a dog's forum uses PCV as below 12% as unstable, PCV 35-55% as stable). If unstable, go back to previous dosage that works, according to one www.champdogsforum.co.uk/board/topic/58850.html article.
2. A gastroprotecant e.g. sucralfate (0.5-1g) given when the dog is on high doses of steroids.
3.
IMMUNOSUPPRESSANT
medications like cyclophosphamide together with lower dosage of steroids for severe AIHA, for several months and reassess 2-4 weekly. Most dogs respond to prednisolone and immunosuppressant. If there is a relapse, a longer course of medication may be required.
Cyclophosphamide (50mg/Ma p/o q 24 hr) or 2 mg/kg q 24hr for the first 4 days of each week for 6-8 weeks. Re-assess.
Azathioprine (50mg/Ma q 24hr) (2mg/kg p o q 24 hr) for 1-2 weeks, then every other day.
Cyclosporin (15mg/kg po q 24hr) has been used to treat refractory AIHA
.
Danazol (synthetic androgen, 5 mg/kg po q 12 hr). Expensive. Reserved for dogs that have are refractory to pred + cyclophosphamide or Azathioprine or intolerant drug side effects. Contraindicated in dogs with heart, liver or kidney problems.
3. For severe cases,
splenectomy
(last resort in life-threatening refractory anaemia if medical treatment is not controlling the disease after 4-6 weeks of therapy). Blood transfusions and intravenous immunoglubulin therapy. Blood transfusion may be needed in the very severe anaemic dog to buy time for the drugs to act. Use cross-matched packed red cells only and these cells may also be destroyed by the dog's immune system.
Reference to an internet article at:
www.champdogsforum.co.uk/board/topic/58850.html
I will update the case of the dog with white gums as soon as possible.
Will discuss with the owner today:
1. Blood test
2. Coombs' test
3. Urine test
4. Prednisolone + Immunosuppressant (cyclosporin) for next 2 weeks.
5. X-rays or ultrasound of chest and abdomen.
6. Hypothyroidism
7. No bone marrow biopsy