Dog Business. How To Be Successful in Your Pet Shop Business - Puppy Selling

The Puppy Man says, "Nobody would buy this puppy. He is unsaleable."

asiahomes.com's Be Kind To Pets Community Education:
Written by Dr Kong Y Sing.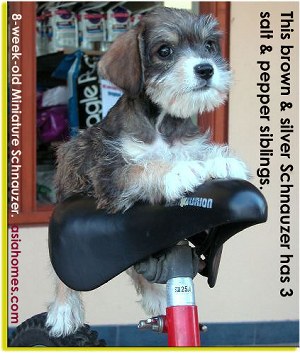 "You are definitely a good puppy salesman as you sold 7 Miniature Schnauzers out of 8 puppies in 7 days, " I said to Puppy Man, a new pet shop operator in Singapore's greenest and richest leafy residential Cluny Park Estate.

Parents usually bring their children to buy puppies during the mid-year school break. The government announced that Singapore was in an economic recovery stage. But several pet shops including retailers of other trades complained of zero or poor sales in June 2004. "Where are all the customers?" many pet shop operators asked me when I visited them to vaccinate their puppies.

I guessed, "The parents could have gone overseas for holidays. The low cost budget airlines made travel very cheap. As low as S$40.00 from Singapore to Bangkok."

Yet, Puppy Man was doing a roaring business just selling a sole product - the Miniature Schnauzer puppies. He was selling them like hot cakes. He did not sell any other canine breed, rabbits, hamsters or pets. A Schnauzer specialist.

"Any pet shop operator would have sold those seven Schnauzers with one eye closed. They were of high quality and had the standard colours of black and silver or salt and pepper," I challenged him as I looked at the eighth Miniature Schnauzer. He was sleeping in the new stainless steel cage.

I said, "This brown and silver Schnauzer helps you to sell your 7 puppies very fast."


Puppy Man rolled his eyes skywards. He looked at the strip of "Doggy Man pet-food" paper advert flyer hanging from a string attached to the ceiling air conditioner cassette swaying side to side.

He must have thought: "What does a veterinarian know about pet shop operations and puppy sales?"

I should curry his favour by telling him how wonderful and great a salesman he was. No. 1 in Singapore. The best salesman in the world!

Flattery usually make people feel good. Flattery will bring in more referral cases from Puppy Man. But would it be the right thing to do? Just to make him happy so as to get more puppy vaccinations and treatment from him?

Puppy Man appeared moody as he fingered the white collar of his "Puppy Man" T-shirt and looked at his toes. He wore brown slippers to work. He told me he used to wear business suits and pants when he was in sales in Taiwan.

But now in Singapore, he wore slippers, collared T-shirt and brown pants to work. I guessed he did not need to impress anybody. No more polished shoes and ties for him nowadays. No need to give good first impressions nowadays.

I sat beside the sulky Puppy Man on the 2-seater sofa he put near the front of his shop. I said, "When a prospective buyer sees this unusual coloured Schnauzer amongst the standard colours, they know instinctively what they want."

Puppy Man fingered the sole white 2-cm whisker lingering from the skin of his upper lip, left corner.

He did not understand what I was talking about.

I elaborated, "The buyers have had seen what they don't want when they see this brown and silver Miniature Schnauzer. They think this brown and silver Schnauzer is a cross. They compare him to the 7 standard coloured ones. No problem deciding who to buy."

Puppy Man clicked his lighter for another cigarette. I said, "In short, this brown and silver Schnauzer helped you sell the other 7 puppies much faster!"


First day at the pet shop. The brown ears and legs of the Schnauzer distinguished him from his salt and pepper coloured sibling.

Did my explanation sound logical? Puppy Man could understand and speak English. He was fluent in Mandarin and many buyers appreciated him speaking to them in Mandarin.

He folded his arms and exhaled the bluish smoke. I guessed he expected compliments on his successful sales of 7 puppies in such a short time.

How could I not congratulate him on his excellent track record of sales and cast doubt on his salesmanship?

It was extremely difficult for new shop operators to sell one puppy a month in May & June 2004. I knew the economic situation as I did my rounds of a few pet shops and breeders doing puppy vaccination.

Puppy Man was really good at puppy sales because nobody could have sold 7 puppies so fast at that time.

But his performance was not good enough for me. As long as this brown and silver Schnauzer was not sold, he was not a top salesman to me.

I presumed Puppy Man had been to night clubs in his younger days as a successful business man. He would have needed to entertain clients at night clubs.

"If you see a wall flower amongst 8 dance hostesses, who would you choose to dance with?" I asked. "Would you dance with the plain-looking girl?"

Puppy Man smiled. A stupid question did not merit his reply.

"Looks are everything, even in puppy buying," I elaborated. "If you are really good at sales, sell the brown and silver Schnauzer before it grows up to be not so cute. If you can sell him, you can sell ice to Eskimos!"

Puppy Man frowned. He puffed on the Marlboro cigarette and blew two blue smoke rings curling up towards the ceiling. He said, "This brown and silver Schnauzer is not saleable."

He knew he had a flair for sales. His friend had quietly told me he was mentioned in a magazine as "No. 1 salesman in Asia Pacific" when I asked why he would start a one-breed puppy pet shop in Singapore, against all conventional thinking and business advices. All doggy people think he is a whacko foreigner and bound to close down shop soon.

Puppy Man would not lose money as he had sold the other 7 puppies at higher prices. All he needed to do was to sell this last pup below cost. He said to me, "I have no buyers even when I give steep discounts."

There was not even a ridiculously low offer for this last Schnauzer.

I worried that his negative mental attitude would not help the puppy find a new home soon. I feel responsible for this little one.

He was amongst 8 puppies from 2 professional dog breeders sold to Puppy Man at the same time, based on my recommendations.

Puppy Man came from Taiwan. He had just started a pet shop. He was a foreigner. I called him "Puppy Man" because he could "talk" to the puppies.

He looked at them when they misbehaved. He winked his eyes, clicked his right thumb and fore finger 3 times. The puppy would stop barking or misbehaving and looked at him.

That power was acquired from an old master of puppies living in Taiwan's tallest mountains before he came to Singapore. This would be another story.

Now he had started a pet shop in Singapore As he was a foreigner, he did not have contacts with breeders.

He needed help to buy Miniature Schnauzers for sale. Such breeds were not in great supply in Singapore. So, I introduced breeders to supply puppies to him. I transported the puppies to his shop.

Now, I felt responsible for this discriminated puppy in the cage. I did not know that colours are so important when selling Miniature Schnauzers.

Puppy Man would take him out of the cage to let prospective buyers see him. He always bounced up to the prospective buyers. He rushed to them, looked at them. Bit their shoe laces or toes. As if he was saying, "Give me a home."

Not all puppies are that pro-active in marketing themselves. Yet, nobody wanted to buy him.

He had big round eyes. He was not toyish (small toy sized). He was not rangy (long-limbed and long-bodied). He was not coarse (hair type rough and thick). He did not have big erect ears. These are the breed specifications of a Miniature Schnauzer. Because of his brown coloured coat, he was not sold.

Now, he had been in the pet shop for 7 days. The new school term had started, so there were fewer parents bringing their children to buy puppies.

Singaporeans love to buy very young puppies. Less than 12 weeks old. These puppies sell for a higher price. Puppies over than 3 months old seldom find buyers.

The veterinary regulators prohibit puppies older than 6 months from being displayed for sale at pet shops.

Puppy Man would re-stocking soon. The younger puppies would be sold. He would grow bigger and not so cute. So, he would be left on the shelf.


This salt and pepper Miniature Schnauzer was one of the 8 that was sold out fast.

I kept asking Puppy Man about this puppy almost every day. Sometimes by phone. Sometimes I drove to his pet shop to check him out. "Can't you sell him at low prices? Below cost?"

"This Schnauzer is not saleable," Puppy Man declared. "Nobody is interested in him. Nobody even counter offer a price."

I was surprised when he said that. I did not expect him to develop a negative mental attitude. He was featured in a magazine survey as one of the top salesman in Taiwan.

Another 3 days passed. I actually hoped that Puppy Man had no new stock of puppies. I stopped telling him who had puppies for sale. I did not bring breeder's puppies for him. This was to give the brown and silver Schnauzer a better chance of finding a good home.

Believe it or not, two prospective buyers sauntered into the pet shop on a quiet Sunday. They wanted to buy this naughty puppy. Was the Puppy Man using his magical power to ask this puppy to behave and tug the heart strings of the two buyers? I do not know.

Now that there were two buyers. Would Puppy Man initiate a bidding war? Would he auction for a higher price? There was a risk of losing 2 prospects although there was a chance of getting a higher selling price? Would Puppy Man do that?

No. The Schnauzer was sold within 30 minutes. The first buyer wanted Puppy Man to keep the puppy for him for 30 days. Puppy Man was not agreeable. Therefore he sold to the other buyer who could take the puppy home immediately.

Was it beginner's luck for Puppy Man? Now, he had sold all 8 puppies within 14 days.

I was happy. Yet I had another worry for this Schnauzer.

Would this puppy be taken for a veterinary health check? Would the veterinary surgeon then comment that this puppy was a "cross-breed"? The buyer would be most angry at being sold a cross-bred and return the puppy.
There was no DNA test in Singapore to confirm he was a pedigree. Even if there was such a blood test to determine the genetic origin of this puppy, it would cost a bomb (expensive).


Maybe, this Schnauzer would not be sent for a veterinary check up. I kept my fingers crossed. 3 days passed. No news is good news.

I asked Puppy Man whether the new owners were happy with the puppy. He said that they were happy with such an intelligent puppy. However a school teacher told the buyer's children that their Schnauzer was a mongrel.

The buyer was upset and confronted him for misrepresentation.

"Did they return the puppy?" I asked Puppy Man.

"Did the buyer complain to the pet shop licensing body - the Agri-Food and Veterinary Authority?" I asked Puppy Man before he could reply.

"Did the buyer complain to the Consumer Association of Singapore?"

Many Singaporeans are asserting their rights and the authorities do attend to all public complaints.

"No," Puppy Man laughed at me as another 3 rings of cigarette smoke from his lips twirl into the air. "The buyer accepted my explanation that the puppy was from a litter of four miniature Schnauzers."

As a veterinary surgeon, I did not think that this brown and silver Miniature Schnauzer would be considered a cross breed by prospective buyers when I asked Puppy Man to accept him. He was from a batch of 4 miniature Schnauzers from the same dam.

Later on, I saw this brown and silver Miniature Schnauzer when Puppy Man brought him and a sibling to my surgery for the booster vaccination. His coat was more orange or red, as you can see from the pictures. He had large round eyes, sandy brown eye lashes. He wore a shiny orange reddish brown coat. Look at his eyes and his handsome face

No doubt, he was a heart breaker. If he was human, he would be a heart breaker of ladies. Just like Puppy Man.



The brown and silver Schnauzer (right) with his sibling at the veterinary surgery
for the third vaccination.

He had all the characteristics of a Miniature Schnauzer including his body conformation, ear shape, ear position, neck and eyes. He was a photogenic puppy if he could stay still.


As for Puppy Man, he always smiled and felt very high spirited whenever I asked him about the fate of this puppy in the family who doted on him.

I had said that if he could sell the brown and silver Schnauzer, he could sell ice to Eskimos. I think he would be able to do that.

It seemed that the Lady Luck smiled on him as he continued to sell as many as 5 Schnauzer puppies in a day in September. At least 50 puppies were sold in the following month. His problem was the insufficient supply of high quality Miniature Schnauzers to meet the demand.





90% of the 200 Singapore pet shop operators had great difficulty selling 5 puppies in a month. It was hard to believe that a theme pet shop selling just Schnauzers and no other animal could be that successful, but it was true in 2004.

Did the God of Fortune favour the brave? Puppy Man was bold enough to start up the sole Schnauzer selling pet shop in Singapore. His associates in the pet business predicted he would close down in one year. Many pet shops were closing down within a year at that time. Yet he was prospering.

However, you can bet your last dollar that Puppy Man would never accept any odd-coloured Schnauzer puppies from me. The brown and silver Miniature Schnauzer had caused him before-sales de-motivation and after-sales aggravations! His marketing prowess on the puppy sales area was never in doubt.