PROMOTING THE ADOPTION OF STRAY CATS
My latest image "Be Kind & Brave" was inspired by a Singaporean couple who adopted a cat from the Cat Welfare Society. "Adopt a female cat," I advised since the 7-year-old male cat had signs of FLUTD and had passed away during treatment at a veterinary practice, causing much distress and sadness to the wife.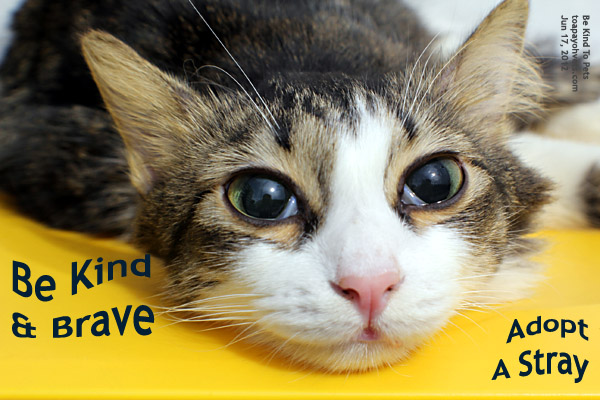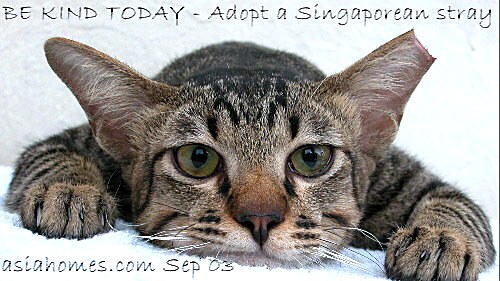 Compared to my older image in 2003, I have improved my photographic skills and have got a better lens! Both cats were photographed outside the Toa Payoh Vets with the wall as the background. I prefer the 2003 image as it seems more dynamic.

It is quite difficult to think of captions. Both cats were sterilised by me. The male cat in 2003 was brought in by a cat activist to be neutered and left ear tip snipped. After that, he was put back to the streets. Over the years, pest control firms appeared to net the stray cats and so in 2012, you seldom see stray cats at eating places in the wet market.

However the other "Be Kind & Brave" cat in 2012 has a very good home and is well loved. There was no need to snip her left ear tip unlike community cats without homes. Her spay operation is shown below. She is OK and back to normal now.

I hope that in the next 3 years, Singapore will permit cats to be housed in the HDB apartments so that they need not be "illegal" in public housing.
A pretty stray cat from the Cat Welfare Society was adopted and came to Toa Payoh Vets for general examination and later on, vaccinations.
She grows up fast. She caterwauls and is the loud screams disturb the neighbours. I spayed her around the 10th day from the onset of caterwauling.
Her owner wanted a complete blood test and FIV screening to check her health status. Blood test shows low platelet count which was worrisome. FIV test was negative. As at Jun 28, 2012, the cat is in excellent health and is very active, being much loved by a Singaporean couple.
TIPS TO EXCEL IN VETERINARY MEDICINE AND SURGERY

Young vets are advised to learn the skills of digital photography such that they can produce excellent veterinary images. By illustrating reports of cases seen with attractive pictures, the vet improves his or her veterinary knowledge and diagnosis.

There are many distractions in Singapore such as the many online shows and TV programs to watch. If young vets want to be great vets, they need to sacrifice their spare time to do practical research and write up case studies. In doing this, the vet reflects on his or her handling of the case and gets better at treatment of similar cases. Good clinical and surgical outcomes are produced and the vet builds up a good reputation over the years as referrals from happy clients come from distant parts of Singapore. They come not because the vet is "cheap", but because he or she can resolve the owner's pet problems fast.