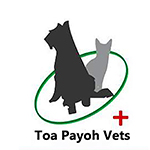 TOA PAYOH VETS PTE LTD
toapayohvets.com
Blk 1002, Toa Payoh Lor 8, 01-1477, Singapore 319074

.

Tel:

+65

6254-3326,

9668-6468, 9664-0404,

judy@toapayohvets.com, 99pups@gmail.com
Focus: Small animals -dogs, cats, guinea pigs, hamsters,

pet rats

and mice, birds

and

turtles


January 09, 2023
CORPORATE SOCIAL RESPONSIBILITY

1. Be Kind To Pets Community Veterinary Education Project -
Be Kind To Pets
Toa Payoh Vets is a private small-animal practice in Singapore. It was started in 1982 by Dr Sing Kong Yuen to provide a more personalised boutique service to Singapore pet owners.
Vets, staff and interns do clinical research and education of Singapore pet owners by participating actively in the main project, Be Kind To Pets. This commenced around 1997 when the internet was at its infancy and when web pages were grey. A large collection of case studies have had been published in the world wide web.
Be Kind To Pets share veterinary information to more people worldwide via the internet.
2. Producing veterinary education

al

videos at Toa Payoh Vets

A project

started 2 years ago

create videos to educate

the more visual generation of

vet students and pet owners as text is not as appealing to

these mobile-using people. Most of the videos are at:
YouTube.
An example of a video: Final Video: A tarsorrhapy and 3rd eyelid flap saved this old Silkie's eyeball as the first vet advised enucleation (eyeball removal)
Video

of the history of "

Be Kind To Pets

"

project by Dr Sing Kong Yuen.
3. Contributing to veterinary medicine in Myanmar

Dr Sing Kong Yuen

is a

veterinary consultant

to
Royal Asia V

eterinary

Surgery, Yangon, Myanmar
Dr Sing Kong Yuen

gave a lecture to final year vet students at Yezin Veterinary University of Myanmar

in 2014

. Interesting veterinary case studies in Yangon have been published as videos.

Video: A cat has pyometra in Yangon (Myanmar language for vet students in Myanmar)
Video: About Dr Thein Tun Aung on house call with Dr Sing Kong Yuen