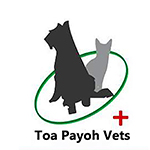 TOA PAYOH VETS PTE LTD
toapayohvets.com
Blk 1002, Toa Payoh Lor 8, 01-1477, Singapore 319074

.

Tel:

+65

6254-3326,

9668-6468, 9664-0404,

judy@toapayohvets.com, 99pups@gmail.com
Focus: Small animals -dogs, cats, guinea pigs, hamsters,

pet rats

and mice, birds

and

turtles


January 08, 2023
Map of Toa Payoh Vets
Toa Payoh Vets is located in

the

Eastern part of Toa Payoh. It is sited on Bl

oc

k 1002, Toa Payoh Lor 8, #01-1477, Singapore 319074. It is on the ground floor, corner unit of an industrial park, 7-storey building. It is near the junction of Toa Payoh Lor 7 and 8 and Toa Payoh East. A

coffee shop is behind in Block 1002. It is located in the Toa Payoh Industrial Park

.
Prominent landmarks include the

the Polyclinic, Hindu temple and Community Centre which are on Toa Payoh Lorong 8.
BY

BUS

.

No.238 from Toa Payoh MRT station at the HDB Hub. Tell the driver to stop opposite the Hindu temple in Lorong 8 and walk towards Block 1002, a 7-storey industrial block to the left of the Hindu temple.

It takes about 5 minutes to walk to the Surgery.
CONVENIENT CAR

PARKING

.

O

utside the surgery

, there are a

mple car park lots, especially on Sundays and public holidays. The advantage of visiting Toa Payoh Vets is that you need not walk more than 1 second to the surgery.
TAXI

S.

Singapore's taxi drivers are worried about pets vomiting and soiling their taxis and are known to reject pet owners.

Inform the taxi driver that you have a dog.

Put your pet in a carrier bag or wrap your pet in a big towel. Do not carry your pet in your arms as many Singapore pet owners do

. T

axi-drivers are worried about pets

vomiting in the taxi. Some dogs do vomit

inside a moving vehicle. Now we have GrabPet as an alternative to the usual taxis.
VIDEOS SHOWS THE OLD SIGNBOARD

Video: A view of some Toa Payoh HDB apartments
Video: External view of Toa Payoh Vets and nearby buildings

Video: From Lorong 8 Toa Payoh to Toa Payoh Vets
Video: External view of Toa Payoh Vets and nearby buildings
CONTACT

toapayohvets.com
,
judy@toapayohvets.com, 99pups@gmail.com
Tel/SMS: +65 9668-6468, 9664-0404

Tel: +65 6254-3326
Tel: 6254-3326, 9668-6468 or e-mail judy@toapayohvets.com if you can't find the location or have other queries