TOA PAYOH VETS
toapayohvets.com

Blk 1002, Toa Payoh Lor 8, 01-1477, Singapore 319074. Tel: +65 6254-3326, 9668-6468. judy@toapayohvets.com
Focus: Small animals - dogs, cats, guinea pigs, hamsters, pet rats and mice, birds and turtles
November 29, 2018
1. Be Kind To Pets Community Veterinary Education Project
Be Kind To Pets

Toa Payoh Vets is a private small-animal practice in Singapore. It was started in 1982 by Dr Sing Kong Yuen to provide a more personalised boutique service to Singapore pet owners.

Since 1997, Toa Payoh Vets have been making corporate social responsibility as part of its giving back to the pet and veterinary community in Singapore.

Vets, staff and interns do clinical research and education of

Singapore

pet owners by participating actively in the main project, Be Kind To Pets. This commenced around 1997 when the internet was at its infancy and when web pages were grey. A large collection of case studies have had been published in the world wide web.

Be Kind To Pets share veterinary information to more people worldwide via the internet.

Ed

ucat

ing

pet owners

about

good

pet

and

veterinary students about real-life challenges in veterinary medicine and surgery is part of Toa Payoh Vets' mission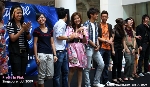 Education passes knowledge from one generation to another enabling progress and learning from failures and challenges.
We research and write articles to educate

a younger generation of

pet owners

and veterinary students

all over the world using real case studies

, using the internet platforms

.


This project was started by Dr Sing Kong Yuen in 1997. Our internet articles enable more pet owners and others to share information and learn how to be kind to pets. Some case studies are shown below:

Young Fox Terrier spay. Back to normal standing. Use of antisedan in 3 case studies
Some interesting cases are at: Dog Medicine
and Dog Surgery
Cat fell 4 stories. 3 holes below the anus.
Some interesting cases are at: Cats
Hamster skin tumours are best removed when they are very small. It will be much cheaper too. The tough cookie hamster.
Some interesting cases are at: Hamsters
A rabbit has a painful eye and cheek
A rabbit keeps licking wound. More cases at: Rabbits
Passing blood in the urine for the 3rd time
Guinea Pig cases are at:
Guinea Pig

s & Rats

Eyes wide open on Day 4 of treatment. My 3 Ninja Turtles
Guinea Pig cases are at:
Turtles
2. Producing veterinary education

al

videos at Toa Payoh Vets
A project

started 2 years ago

create videos to educate

the more visual generation of

vet students and pet owners as text is not as appealing to these mobile-using people.
An example of a video is at:
1120. Final Video: A 54th-day pregnant Pomeranian gave birth naturally after Theracalcium IV
3. Free Toilet Training Advices to Singapore pet owners

Dr Sing's interviews of over 600 cases of Singapore puppies and their house-breaking challenges. Most puppy sellers don't provide toilet training advices and most Singaporeans don't have sufficient toilet training knowledge. Therefore reading the cases of situations encountered may help them. Or they can e-mail judy@toapayohvets.com to get some free advices.
4. Blogs

and videos

to

make

veterinary medicine and surgery alive to vet students

and pet owners
There is too much to study in veterinary medicine and surgery - dogs, cats and other animals unlike human medicine which focus only on people. The case studies seen at Toa Payoh Vets will make veterinary studies more interesting to the vet students as these are real cases

encountered by Dr Sing Kong Yuen in Singapore and some countries like Myanmar overseas

.
5. Internship for Singaporean students who wish to be vets
Qualified interns are required to do write veterinary reports or produce videos so that they learn better rather than being an observer at Toa Payoh Vets. Most interns have no animal handling experiences as they live in urbanised Singapore and internship at Toa Payoh Vets enables them to know whether they are interested in studying to be vets. Some projects done by interns are:
Educational Video: FIV In
A Stray Cat, produced by two Temasek Polytechnic Vet Tech students
Urinary Tract Infections & Cystitis - blood in the urine two Temasek Polytechnic Vet Tech students
Being hands-on. An intern learns how to bathe a dog (image left).
1061. Final Video: Interns making a Be Kind To Pets Video guidelines

Blog: Example of a Script for video for Intern

Recurring urinary stones study at:

Blog: May 11, 2015. Recurrent struvite stones in a female Miniature Schnauzer
6. Inspiring stories/images to impart good values to the young Singaporeans
It is difficult to

impart

good values as the

Singaporean

parents are usually working long hours. Some

life

stories

, music and images

may inspire

the

young readers.
Be humble.

Demonstrate Respect For Elders & They Will Impart Their Hard-earned Experiences To You Free Of Charge
The frog patchwork by Prime Minister Lee Hsien Loong tells a story about complacency - a frog inside the well. Animal Love Stories in patchwork blocks
Pictures to inspiring the young adults is the main webpage
7. Contributing to veterinary medicine in Myanmar
Dr

s

Sing Kong Yuen

and Daniel Sing are

veterinary consultant

s to
Royal Asia V

eterinary

Surgery, Yangon, Myanmar
Dr Sing Kong Yuen

gave a lecture to final year vet students at Yezin Veterinary University of Myanmar

in 2014

. Interesting veterinary case studies in Yangon have been published as videos.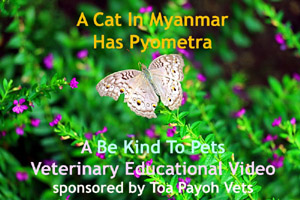 Video: A cat has pyometra in Yangon (Myanmar language for vet students in Myanmar)
Video: About Dr Thein Tun Aung on house call with Dr Sing Kong Yuen
8

.

Conclusion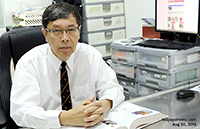 Video

of the history of "

Be Kind To Pets

"

project by Dr Sing Kong Yuen. With hands-on experience, better quality veterinary educational videos for pet owners are produced in 2016 as shown in this example:
Final Video: A tarsorrhapy and 3rd eyelid flap saved this old Silkie's eyeball as the first vet advised enucleation (eyeball removal)